Here is the lastest progress on my Labyrinth Rug.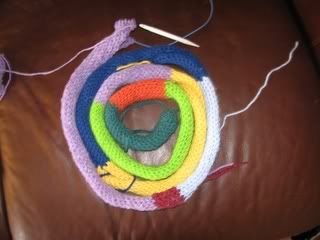 I coiled it up a bit so you could see how it will ultimately look. I have 7 feet so far--11 to go! It moves a lot faster than I imagined, but the knitting is kind of boring, just a basic slip stich pattern. Although, I feel productive and I am really enjoying the fact that I am using up all the tidbits of yarn that I don't have the heart to throw away.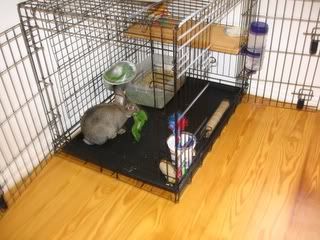 Here is a picture of Gretchen's cage. She is eating some nice mustard greens. Last week I put the wooden shelf in myself. I am so proud. My parents gave me a cordless electric drill and a bag with various tools for Christmas. I had to have my hubby trim the board with a saw, but I drilled the holes and used zipties to attach it the the cage. Originally I added two shelves, but took one out, because she didn't have enough room to stand up on her hind legs. She spends quite a bit of time on the shelf and has added a nice bevelled edge to it with her teeth.