I will report on my dwindling yarn stash on Sundays during the
Stash-a-long
. I am getting a little destracted by all the going-ons in blog land and feel the need to focus just a bit. I am excited about using some of the odds and ends of yarn that I have around here. I am also knitting in the
One Skein KAL
. And these two KALs fit perfectly together. My first destash project is my
Life of Pi
project for
KTC
, as well as an orange project for
April's Project Spectrum
. I made a tiger tweed pencil tote for my sketching pencils. This little bag is, of course, inspired by Richard Parker. There is a portion of the book in which Pi reports that he kept a journal of his experiences at sea, when possible. It would have been nice if Pi had some journaling supplies with him. Moreover, since I use my pencils for a nature journal/sketch diary, I thought it was fitting to the book as well. Pi, a naturalist at heart, is forced to eat the creatures of the sea to survive. This grieves him greatly, for he considers each animal a creation of God and even prays the first fish that he killed with his bare hands. This tiger tweed bag is for Pi and his love for God's creatures.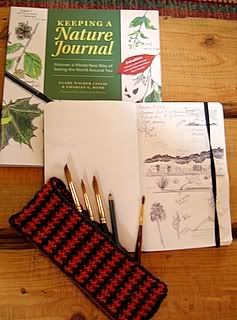 I have begun another destash project for
Moll Flanders
. This is an interesting book, because the reader cannot be sure if Moll is a reliable narrator. She seems forced into her debauchery by her circumstances, gender, social standing, and bad luck. But always at the back of my mind I wonder if she is, infact, spinning the tale in order to make excuses for herself. Her ultimate goals seem to be money and vainity. So I am making her a green coin purse. This pattern comes from the book One Skein and the yarn is Cotton Fleece in the color, Mint Condition! Can you believe that? I am learning to have faith in my yarn stash.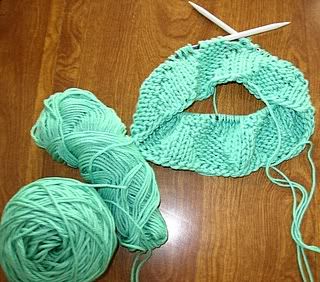 Another destash project has been a thorn in my side for over a year now. I bought 7 skeins of Cascacde Pastaza from
Kaleidoscope Yarns
last year after the Tsunami. A great deal of the profits went to the Red Cross, but this yarn was not cheap. I knitted a red pullover. The pattern was from
Knitting for Dummies
. But, alas, I made the pullover too small. And although it didn't look bad, the sweater was incredibly scratchy due to its high lama content. It fit too close for comfort, so I frogged it. I decided to knit the Best Friend Jacket from
The Knit Stitch
. I thought I could finish this for March's Project Spectrum, but this did not work either. I am half a sleeve away from completion, so I still am knitting a way. I hope this has a happy ending. This yarn is beautiful and really does deserve to be a great sweater!