First, I would like to say that I just realized that some of my blog comment moderation emails have been going to my spam folder. I don't know when this started happening, but I apologize if you commented and I did not post your comments. I was not dis-ing you or anything. I probably deleted them without even looking. I think I have the problem fixed now--I hope.
Here is my Sew? I Knit project for this month. It is a Goblin Market inspired sewing pouch for the new blog, Crafted Poetry.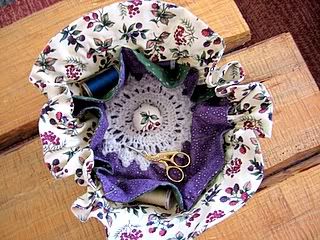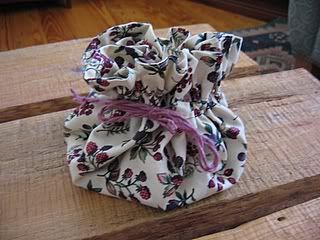 The fabric is decorated with various types of berries: blackberries, cherries, blueberries. It has a small pincushion in the center and eight pockets for thread and various sewing items. I even crocheted a doiley for the center of it using some sport weight wool that I had in my stash. I am new to crochet and found it quite fun.
The blackberries on the fabric reminded me of a berry harvest that I recently had in my yard. Here's a picture of the crop.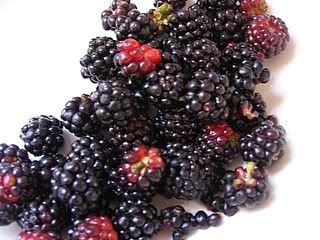 Every year we have wild berries that grow in our yard. We are able to pick them and eat them and they are very good. An elderly neighbor told me they are called dewberries, which I guess is just a term for wild blackberries. We've had a lot of rain recently, so there seems to be a lot of them this year. They never last long enough to make a cobbler or anything. They get eaten up pretty quickly--YUMM!
Gretchen the Bun is doing fine.

She is already litter box trained--and has had NO accidents! She is getting very tame and sociable. As I was writing this post she repetitvely jumped into my chair and walked on the laptop. She tried to bite the cord a few times (oh no!) This is the only cord that I have not protected with plastic tubing. She jumps on the couch while we are watching TV. I thought that was pretty neat until tonight, when she jumped on the couch and started biting us. I don't think she was being mean. I think she is hormonal and needs to have her spay operation soon--or a bunny lobotomy :)
Beamer likes her except when she tries to crawl on him. Something about her claws digging into his back doesn't sit too well with him.