I've been swatching for the Amazing Lace. My partner/project is the Isis Wrap from last summer's issue of Interweave Knits. I am using the Wool-Ease that I won during from Anti-Craft for the Knitting Olymipcs. It is a beautiful color, called berry I think.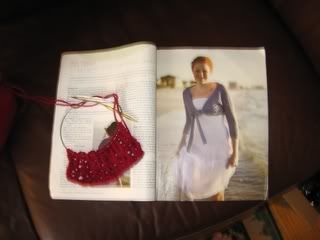 Here is the progress I've made on Bobble Blue recently. I have the back done--Horray!
I love this project. I think I like knitting cables better than lace, although lace is much more pratical here in Texas.
I got my undyed yarn in from KnitPicks this week. I also picked up some packets of Kool-Aid. I guess you know what I will be doing this weekend!! I'll post pictures as soon as I am done!

Gretchen is being particularly destructive tonight. She grabbed a seam on our leather couch and pulled hard--using her whole body weight. She surprisingly didn't do a lot of damage. She loves the TV remote also and keeps on biting the buttons off of it--thankfully it still works. Now, she is coming after the laptop. She is in what is called "the bunny from hell" stage--her teenage years. They will pass.