Here is the work that I've accomplished on Bobble Blue while on my vacation. I am really enjoying the knitting. It is pretty easy to keep track of the pattern and interesting enough that I haven't been getting bored.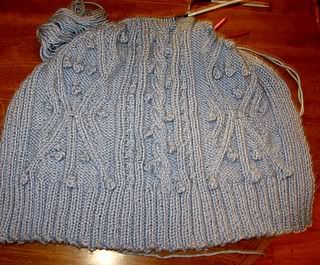 I like the light blue yarn. It shows off the stitch pattern very well.
I am back from my vacation and I guess I need a vacation from my vacation, as they say. I am finally starting to feel rested. I hiked quite a bit, and since I have been working out pretty regularly, I was able to motor! I love hiking and it is even more fun when I am not out of breath. I thought I'd post a few vacation pictures over the next few days. This one was taken at Bryce Canyon on the Navajo Loop Trail. It looks cold, and I guess it was. But it wasn't too bad once we got moving.
The man in the picture is my father-in-law. He and my mother-in-law did all the hikes Scott and I did, albeit a little slower, but I was impressed with the way they can hike.
I finished The Life of Pi on my trip. I have lost a little sleep pondering its point. I suppose that could be a sign of a good book. I am not sure why it is "a story to make you believe in God". Perhaps it has to do with having enough faith to believe the improbable, but that seems weak. And I can't help but think there must be more to it. So I will have to ponder a little more--maybe I'll even cheat and read some commentaries.
I wasn't going to knit a project for this book, but nevertheless, I have started one despite myself. It is a tiger patterned pencil bag for my sketching pencils and pens. I will post a picture and let you know more about it. It is my own design.