It is beginning to be spring here in Texas. Here is one of the first signs (despite the fact that it is 80 degrees outside)--a hyacinth! This one comes up in my front yard every year. I am always so happy to see it.
Speaking of yards, some bloggers I know are taking a backyard field trip. I read about this on Katie's blog and haven't got a chance to post yet. The idea is to take a picture of your backyard and then post it on your blog, so your readers will be able to take a virtual field trip in cyberspace! Here's my backyard: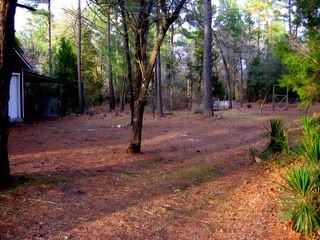 Not much to see. My husband and I built our own house (literally!) and we have never had much time to spend on the yard, because other things (like the roof) always took priority. Now we're tired.
Here is my finished skirt for Sew? I Knit. I needed to finish it this week, because we will be on vacation next week. And I may not be able to post. I wore it to work today and am quite happy with it although the picture of me could be better.